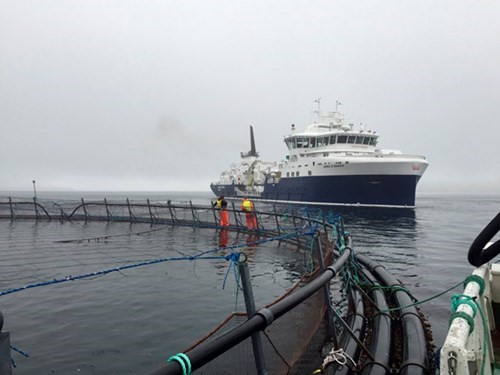 Larger Smolt
23.02.2016
At the moment Bakkafrost has 6 hatcheries on different locations near the farming areas. In 2015 our hatcheries delivered smolt with an average weight of 141g to the farming sites. The production of smolt increased 36% and most of this growth derived from the expansion of the hatchery in Norðtoftum. The total production of smolt was 1,615 metric tons in 2015.
We aim at expanding the existing hatcheries and plan the construction of a new state of the art hatchery in Klaksvík. This expansion on land is part of our plan to increase the smolt from 100g to 300g before moving it to the saltwater pins on the Atlantic Ocean.
This initiative will increase the total farming capacity, shorten the period in the sea and thus minimize the biological risks.
Natural treatment
In 2015 Bakkafrost began bathing salmon in freshwater as an alternative to replace chemical treatment of sea-lice. When bathing salmon in freshwater we try to imitate nature, where the wild salmon head up the freshwater streams to spawn and at the same time cleanses itself for sea-lice.
Bakkafrost uses its new wellboat "Hans á Bakka" for this purpose. The salmon swim into a freshwater tank in the wellboat before entering the seawater again. This treatment has been succesful with a efficiency of up to 99.1%.
We are excited about this new initiative and continuously strive to be innovative and contribute to a sustainable way of farming.
Press Contacts:
+298 23 50 01