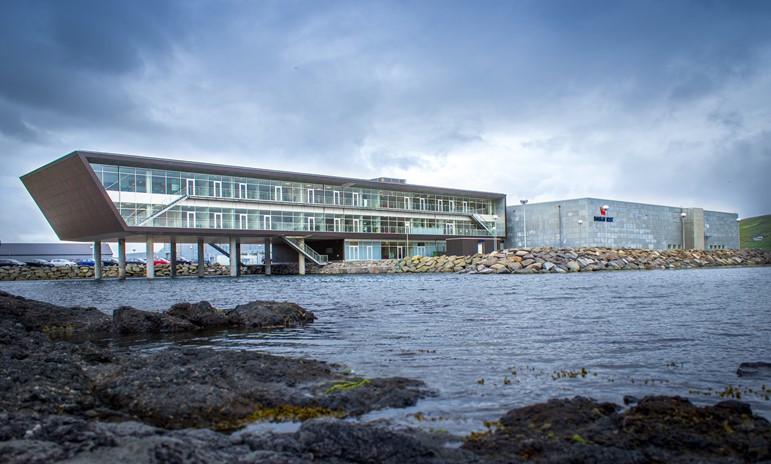 Operational EBIT of DKK 408 Million for the Second Quarter of 2018
21.08.2018
Interim Report: 

Presentation: 

The Bakkafrost Group delivered a total operating EBIT of DKK 407.9 million in Q2 2018. Harvested volumes were 12.9 thousand tonnes gutted weight. The combined farming and VAP segments made an operational EBIT of DKK 376.3 million. The farming segment made an operational EBIT of DKK 393.2 million. The salmon spot prices increased in Q2 2018, compared to the previous quarter. The price increase had a positive effect on the operational EBIT in the farming segment. The VAP segment made an operational EBIT of DKK -16.9 million. The EBITDA for the FOF segment was DKK 66.0 million.
The Group made a profit for Q2 2018 of DKK 338.8 million (DKK 398.1 million). For H1 2018, the profit was DKK 611.1 million (DKK 477.1 million).
The total volumes harvested in Q2 2018 were 12,902 tonnes gutted weight (18,402 tgw). Total harvested volumes in H1 2018 were 25,139 tonnes gutted weight (31,560 tgw). Bakkafrost has reduced its guidance for volumes for 2018 by 2,000 tonnes gutted weight, from 51,000 tonnes to 49,000 tonnes gutted weight.
2.8 million (1.9 million) smolts were transferred during Q2 2018. In H1 2018, 5.9 million (3.3 million) smolts were transferred.
Commenting on the result, CEO Regin Jacobsen said:
"The salmon price was good in the second quarter, and although the price fell throughout the quarter, the result for Bakkafrost was good for the second quarter. Bakkafrost has in recent years made large investments to develop the company and now we are pleased to announce a new investment plan for the period from 2018 to 2022. Bakkafrost expects to make investments of around DKK 3 billion during this period. The salmon farming business has developed dramatically since it started in the Faroe Islands. We foresee great opportunities for development in the future and to be able to transfer these opportunities into realities, large investments are needed."
The combined farming and VAP segments made an operational EBIT of DKK 376.3 million (DKK 435.0 million) in Q2 2018. The operational EBIT per kg was DKK 29.17 (DKK 23.64) in Q2 2018, which corresponds to NOK 37.41 (NOK 29.77) for the combined farming and VAP segments. For H1 2018, the combined farming and VAP segments made an operational EBIT of DKK 593.1 million (DKK 755.2 million).
The farming segment made an operational EBIT of DKK 393.2 million (DKK 489.5 million) in Q2 2018. The harvested volumes were lower, and the average spot price was higher in Q2 2018, compared to Q2 2017. For H1 2018, the operational EBIT was DKK 621.6 million (DKK 862.7 million).
The VAP (Value Added Products) segment made an operational EBIT of DKK -16.9 million (DKK -54.5 million) for Q2 2018. The VAP segment has had negative results from Q2 2016 until Q3 2017, when it turned to a surplus, but the salmon spot prices increased again in Q1 2018, resulting in negative margins. For H1 2018, the operational EBIT was DKK -28.5 million (DKK -107.5 million).
The FOF segment (Fishmeal, Oil and Feed) made an EBITDA of DKK 66.0 million (DKK 47.8 million) for Q2 2018, and the EBITDA margin was 20.2% (15.1%). The EBITDA was DKK 152.5 million in H1 2018 (DKK 93.0 million), corresponding to an EBITDA margin of 24.3% (15.6%).
During Q2 2018, Havsbrún sourced 118,387 tonnes (163,100 tonnes) of raw material, and in H1 2018, Havsbrún sourced 248,491 tonnes (269,667 tonnes) of raw material.
In accordance with Bakkafrost's dividend policy and the resolution of the Annual General Meeting 2018, Bakkafrost paid out DKK 10.50 (NOK 13.52) per share on 30 April 2018. The total dividend payment was DKK 513.0 million (NOK 660.6 million).
In Q2 2018, Bakkafrost's full-time employees from 2017, still employed in Bakkafrost, have received bonus shares with the value of 2% of their salary in 2017. In total, Bakkafrost allocated 14,206 shares to its employees. The total allocation amounted to DKK 5.2 million and was based on the closing share price on the allocation day, 14 June 2018.
Bakkafrost has through its recently established subsidiary, Bakkafrost US signed an agreement in Q2 2018 to acquire the business and assets in North Landing, which is a US salmon importer focusing on the East Coast and has a sales office, handling and processing facilities in Clifton, New Jersey, USA. Through the acquisition, Bakkafrost will have a better market access and better abilities to serve Bakkafrost's customers in the US market. The acquisition of North Landing has been closed in Q3 2018.
Bakkafrost relinquished farming sites A-03 Svínáir and A-17/18 Hovsfjørður in July 2016 to comply with Faroese law, when acquiring the remaining outstanding shares in P/F Faroe Farming, which had farming operations in Suðuroy, Faroe Islands. Faroe Farming has since been merged with P/F Bakkafrost Farming. Bakkafrost has been in dialogue with the Faroese Authorities on how the farming operation in Suðuroy could be structured. In Q2 2018, the conclusion was made, which resulted in Bakkafrost relinquishing farming site A-82 Kaldbaksfjørður and getting back A-17/18 Hovsfjørður. In this restructuring Bakkafrost will have future farming opportunities in A-23 Hvalbiarfjørður, which will be part of the farming site A-15/16 Trongisvágsfjørður. Hvalbiarfjørður is a frontier farming area where preliminary research has been done. Bakkafrost will now start building up these new farming sites.
The net interest-bearing debt amounted to DKK 443.3 million at the end of Q2 2018 (DKK 258.1 million at year-end 2017). Undrawn credit facilities amounted to DKK 1,039 million at the end of Q2 2018.
The equity ratio was 68% at 30 June 2018, compared to 70% at the end of 2017.
OUTLOOK
Market
The latest update from Kontali Analyse estimates that the global supply of Atlantic salmon increased around 8% in Q2 2018, compared to Q2 2017. The growth comes from Norway and Chile, which have increased the forecast for 2018 since Q1 2018. The global harvest growth is expected to be around 6-8% in 2018.
Bakkafrost operates in the main salmon markets, Europe, USA, the Far East and Russia. Variation in sales distribution between the different markets is driven by the change in demand from quarter to quarter in the different regions. Bakkafrost, however, aims to have a balanced market diversification to reduce market risk.
Investments
Bakkafrost has since 2013, when the first five-years investment program was announced, invested in its value chain to prepare the company for the future. The last update on the investment program was in June 2016, when investments from 2016 to 2020 were announced. The total investments for the 2016 to 2020 period was DKK 2.2 billion, including maintenance CAPEX.
Bakkafrost has updated the investment program and is pleased to announce an investment program for the period from 2018 to 2022. The new investment program builds on the same strategy set out in the investment program from June 2016, but also includes new strategic initiatives.
The planned investment program from 2018 to 2022 will amount to DKK 3 billion over 5 years and will reinforce Bakkafrost's integrated business model. The aim of the investment program is to minimize the biological risk, increase efficiency and create sustainable organic growth.
Maintenance capex is included in the investment program.
Over the next five years Bakkafrost will use around DKK 425 million in the fishmeal, oil and feed business to increase feed capacity and feed line capabilities. Investment will also be made to increase the fish oil capacity to support marine index.
Bakkafrost has taken the full responsibility of the Faroese broodstock program and obtains the genome rights in 2021. In the new investment program, Bakkafrost expects to invest around DKK 200 million in a new site to run the broodstock program in a totally closed land-based system.
Investment in the farming operation will be around DKK 1.3 billion over the next five years. Investments in new sites in Suðuroy will together with the large smolt strategy add a further capacity of 10 thousand tonnes. Farming site A-17/18 Hovsfjørður has already started operation, and A-23 Hvalbiarfjørður is expected to start operation in H1 2019. Investment will be in transportation of fish and selected R&D investment to cater growth beyond current horizon.
Bakkafrost's sustainability commitment is also seen in the new investment plan. Bakkafrost has – as part of Bakkafrost's 2020 Healthy Living Plan – decided to build a biogas plant. The biogas investment is included in the farming operation investment.
Bakkafrost will continue the existing smolt projects and launch new projects to support the large smolt strategy for the new farming areas. Construction of a new hatchery in Suðuroy for large smolt production is expected to commence early 2019. Bakkafrost's investments in smolt operation in the next five years will be around DKK 1 billion.
Bakkafrost has recently invested in a new state of the art VAP factory in Glyvrar. Investments in the VAP segment will be around DKK 85 million in the next five years.
Farming
The outlook for the farming segment is good. The estimates for harvest volumes and smolt releases are dependent on the biological development.
Bakkafrost focuses on reducing biological risk continuously and has made several new investments and procedures to diminish this risk. Bakkafrost focuses on using non-medical methods in treatments against sea lice and has invested in new technology to comply with this strategy.
Bakkafrost expects to harvest 49,000 tonnes gutted weight in 2018. The reduction of the 2018 harvest forecast of 2,000 tonnes gutted weight – from 51,000 tonnes gutted weight previously – is due to earlier harvest in A-13 Borðoyarvík in Q2 2018 because of precautionary action to maintain a good biological situation.
Bakkafrost expects to release 13.9 million smolts in 2018, compared with 9.9 million smolts in 2017 and 11.7 million smolts released in 2016. The number of smolts released is a key element of predicting Bakkafrost's future production.
VAP (Value Added Products)
Bakkafrost has signed contracts covering around 12% of the expected harvested volumes for the rest of 2018. The contract coverage is reduced, compared to the previous year. Bakkafrost's long-term strategy is to sell around 40-50% of the harvested volumes of salmon as VAP products at fixed price contracts.
The VAP contracts are at fixed prices, based on the salmon forward prices at the time they are agreed and the expectations for the salmon spot price for the contract period. The contracts last for 6 to 12 months.
FOF (Fishmeal, Oil and Feed)
The outlook for the production of fishmeal and fish oil is dependent on the availability of raw material. The ICES 2018 recommendation for blue whiting is 1,388 thousand tonnes, compared with 1,342 thousand tonnes in 2017.
The production of fishmeal and fish oil in 2017 was record high because of good availability of raw material. Bakkafrost expects relatively high production volumes of fishmeal and fish oil in 2018.
The major market for Havsbrún´s fish feed is the local Faroese market including Bakkafrost's internal use of fish feed.
Havsbrún's sales of fish feed in 2018 are expected to be at 80,000 tonnes, depending on external sales.
The new salmon meal and salmon oil plant started operation early in Q3 2018. This operation will increase the value of offcuts from salmon harvested and processed in the new harvest/¬VAP factory at Glyvrar.
Financial
Favourable market balances in the world market for salmon products and cost-conscious production will likely maintain the financial flexibility going forward.
A high equity ratio together with Bakkafrost's bank financing, which was renewed for five years in Q1 2018, makes Bakkafrost's financial situation strong. This enables Bakkafrost to carry out its investment plans to further focus on strengthening the Group, M&A's, organic growth opportunities and to fulfil its dividend policy in the future, which is unchanged although a new investment program is announced.
Please find the Company's Q2 2018 report and the Q2 2018 presentation enclosed.
Contacts:
Regin Jacobsen, CEO of P/F Bakkafrost: +298 235001 (mobile)
Gunnar Nielsen, CFO of P/F Bakkafrost: +298 235060 (mobile)
This information is subject of the disclosure requirements pursuant to section 5-12 of the Norwegian Securities Trading Act.
About Bakkafrost:
Bakkafrost is the largest salmon farmer in the Faroe Islands. The Group is fully integrated from feed production to smolt, farming, VAP and sales. The Group has production of fishmeal, fish oil and salmon feed in Fuglafjørður. The Group has primary processing in Glyvrar, Kollafjørður and Vágur, and secondary processing (VAP) in Glyvrar. The Group operates sea farming in Norðoyggjar, Eysturoy, Streymoy and Suðuroy. The headquarters are located in Glyvrar, and the company has 960 fulltime employees.
NOT FOR RELEASE, PUBLICATION OR DISTRIBUTION, IN WHOLE OR IN PART, DIRECTLY OR INDIRECTLY, IN AUSTRALIA, CANADA, JAPAN OR THE UNITED STATES.
This press release does not constitute or form part of an offer or solicitation to purchase or subscribe for securities. The securities referred to herein may not be offered or sold in the United States absent registration or an exemption from registration as provided in the U.S. Securities Act of 1933, as amended. Copies of this announcement are not being made and may not be distributed or sent into the United States, Australia, Canada or Japan.
Press Contacts:
+298 23 50 01