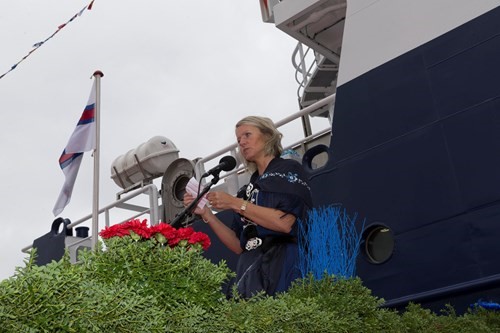 Reception of New Wellboat "Hans á Bakka"
04.08.2015
Bakkafrost's new wellboat "Hans á Bakka" headed for Skálafjørðin and arrived alongside the quay at Bakkafrost Headquarters for the first time on Thursday 30th July 2015.
The wellboat was welcomed with naming ceremony, prayer, music, songs and speeches.
The wife of Bakkafrost CEO Regin Jacobsen, Mrs. Eydna Jacobsen, named the wellboat "Hans á Bakka" after the founder of Bakkafrost, Hans Jacobsen who was called Hans á Bakka. Hans á Bakka founded Bakkafrost in 1968 together with two brothers.
Mrs. Oddvør Jacobsen, the widow of Hans á Bakka, prayed for the boat and its crew.
Speeches were made by the Faroese Prime Minister Mr. Kaj Leo Johannesen, the mayor of Runavík Mr. Magnus Rasmussen, the Chairman of Bakkafrost Board of Directors Mr. Rúni M. Hansen and Bakkafrost CEO Mr. Regin Jacobsen.
On board Bakkafrost invited visitors to enjoy appetizers with Bakkafrost salmon from the Faroe Islands which is especially healthy and rich in omega 3 fatty acids. Members of the crew of "Hans á Bakka" made guided tours on board for our guests.
The wellboat is equipped with state of the art technology to meet future challenges and carries 450 tonnes of live salmon. We improve efficiency, increase transport and production capacity, and at the same time we reduce biological risks. The welfare of the fish as well as the working conditions for our employees will improve and the quality of our products will be even better.
About Bakkafrost:
Bakkafrost is the largest salmon farmer in the Faroe Islands. The Group is fully integrated from feed production to smolt, farming, VAP and sales. The Group has production of fishmeal, fish oil and salmon feed in Fuglafjørður. The Group has primary processing in Glyvrar, Kollafjørður and Vágur, and second­ary pro­cessing (VAP) in Glyvrar. The Group operates sea farming in Norðoyggjar, Eysturoy, Streymoy and Suðuroy. The headquarter is located in Glyvrar, and the company has 820 fulltime employees.
Press Contacts:
+298 23 50 01