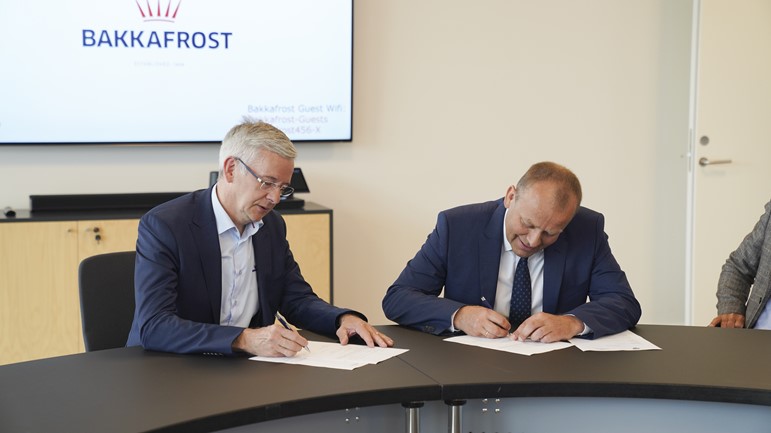 Four manufacturers have submitted the tender to build eco-friendly workboat
23.10.2020
The deadline to submit the tender to build an eco-friendly workboat for Bakkafrost was Monday 12th October. Four manufacturers have submitted the tender
In June 2020, Kaj Leo Holm Johannessen, minister of Nordic cooperation, and Regin Jacobsen, Group CEO at Bakkafrost, signed an agreement to build a new eco-friendly workboat for salmon farming operations. It is the Nordic Council of Ministers and the Faroese Government, who are the originators of the project. The project is part of the overall project to discover green energy solutions for remote areas. Bakkafrost wishes to be a frontrunner of the sustainable development and participates in the project on behalf of the industry.
The task is to build a workboat that uses exclusively green energy, and the boat must not emit any greenhouse gases.
The tender submission deadline was Monday 12th October, and four manufacturers have submitted the tender to build a new eco-friendly workboat. An assessment panel has been set up, and the four manufacturers will present their projects to the panel. Then, the panel will decide, who should win the tender.
The assessment panel will base their decision on the following criteria:
Energy solution/technical solution (weight 40%)

Cost (weight 40%), including:

- The overall cost of the project

- The assessed operational coast pr. operating hours, including maintenance and depreciation of the energy solution

Engineering solutions, including design, capacity, quality etc. (weight 20%)
The members of the assessment panel are:
Representative of Orka/The Faroese Environment Agency: Sigurð í Jákupsstovu

Representative of Bakkafrost: Regin Jacobsen

Representative of the Knud E. Hansen, independent ship design consultant: Thormund Johannesen

Representative of Nordic Energy Research: Svend Søyland
In our latest sustainability report, Healthy Living 2019, Bakkafrost committed to reduce GHG emissions by 50% before 2030. The project to build a new eco-friendly workboat is part of the development towards a more sustainable future for Bakkafrost. The project is visionary, and it can have an important impact on which solutions the salmon farming industry and the Faroese fleet in general will choose in the future.
Press Contacts:
+298 23 50 01