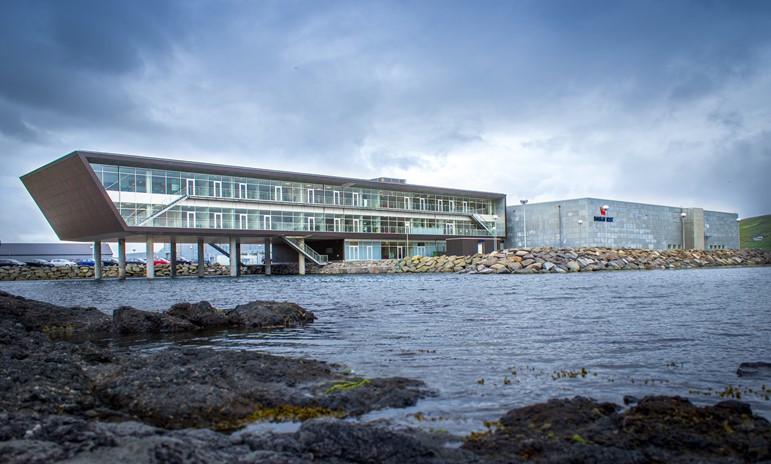 Chairman's statement on Annual General Meeting
03.04.2020
Reaching for new horizons 2019 has been an extraordinary year for Bakkafrost in several ways. Most predominant was the giant leap we took, when we decided to acquire The Scottish Salmon Company (SSC) and hereby diversify our farming operation into a new geography.
The acquisition has increased the scope of Bakkafrost's operation significantly and brings new growth and development opportunities to the Group. 2019 was also the first time since the listing of Bakkafrost on Oslo Børs in 2010 that we raised new share capital.
Existing share owners and new investors were very supportive to our plans to acquire SSC and we were able to raise over 5.1 billion NOK for the acquisition. 2019 was also a year with exceptionally high price volatility in the salmon market.
Even though the salmon price fell by around 40% during the 3rd quarter of 2019, Bakkafrost managed to navigate safely through this with only small effect on our financial results. This was in part due to our effective sales strategy and to the unique veterinary system in the Faroe Islands, allowing us to let the fish grow longer in the fjords when feasible and sustainable to the environment.
We care about the environment, which is the precondition for a healthy operation in the long run. Preserving and respecting our heritage, operating in a society so dependent on nature, – it is essential that the balance with nature is right and sustainable. We are very much aware of the current and future challenge we face, to be able to feed the world's growing population with safe and healthy food but without compromising our planet. We strongly believe that salmon farming has an important role to play in achieving this due to the very low feed-to-food conversion factor and low carbon footprint. But the salmon farming must be sustainable.
We are more committed than ever to ensure that our operation is sustainable and responsible in any way. As an example of this commitment, we are proud that our new Biogas plant is about to be finished and will begin operation in Q1 2020.
This innovative and circular way of thinking resources will convert biological waste from our operation into clean energy, heating and natural fertilizer to the local farmers. For us this is about creating profit for the environment, and the biogas plant will save the environment for 11,000 m3 of CO2 per year. Sustainable sourcing of raw materials and sustainable farming is also key to us.
For our feed production, we only use sustainably certified raw materials. In regard to our farming operation, we are pleased to be well on our way to reach our 2020-goal of having 100% of our farming sites in the Faroe Islands ASC-certified. 2016 marked the beginning of our large smolt strategy, which will enable sustainable organic growth, improve efficiency and reduce the biological risk. Therefore, we decided to upscale our smolt production by building a new hatchery at Strond, later to be followed by the announcement of expansion plans for 3 other hatcheries.
The Strond facility is now operational, and during 2019, we have released several batches of large smolts from the hatchery. Gradually into 2022, we will be able to produce 500g smolts for all our sites in the Faroese operation. Since Bakkafrost took over the farming operation in Suðuroy in 2016, we have made large investments in our farming sites and harvest facility in Suðuroy.
The operation is performing well and contributing significantly to our harvest volume in 2019. Alongside our large smolt strategy, the farming sites in Suðuroy play an important role in our organic growth strategy in the Faroe Islands. Following the agreement with the Faroese Government to take over the responsibility of the Faroese broodstock programme, we have made commitments in order to save and preserve the Faroese strain of the North Atlantic Salmon.
Having been farmed for over 40 years in the Faroe Islands, this unique strain was facing extinction. Bakkafrost has the option to obtain the genome rights in 2021, and we are building a new state of the art broodstock facility to secure future broodstock operation based on this strain. In the meantime, we are pleased to have been able to deliver roe for this unique strain to our hatcheries and looking forward to being self-sufficient. The investment in the broodstock operation is a long-term investment, which we are convinced will create value for Bakkafrost.
Looking ahead, we believe that offshore farming will be feasible and also a natural next step in the Faroe Islands for Bakkafrost. We see it as a growth potential, where we can capitalize on synergy effects with our existing value chain. In 2019, the legislation allowing offshore farming on the east side of the Faroe Islands was passed by the Faroese parliament and we have used the past couple of years to evaluate this opportunity to be prepared for the release of licenses.
Our investments in the Faroe Islands as well as the investments we will make in Scotland will play a significant role in Bakkafrost's future business model and give opportunities for sustainable production growth, reduced biological risk and create value for our customers and shareholders.
THANK YOU TO OUR EMPLOYEES On behalf of the Board of Directors, I express our appreciation to all Bakkafrost employees for the commitment and hard work in 2019.
Press Contacts:
+298 23 50 01