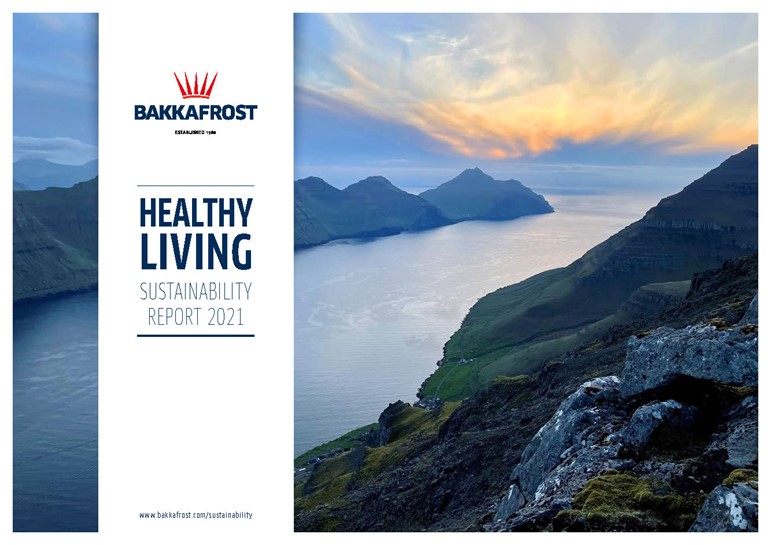 Bakkafrost Releases 2021 Sustainability Report
31.03.2022
Glyvrar, Faroe Islands (31 March 2022): Bakkafrost has released its fifth Sustainability Report, outlining actions and progress in 2021 within our five sustainability pillars:
Healthy Business
Healthy People
Healthy Salmon
Healthy Environment
Healthy Communities
In 2021, we strengthened our sustainability commitment by linking our finances to performance and progress on sustainability targets as well as announcing a new 5-year sustainable growth plan, including extensive investments into technological solutions promoting sustainability across all areas of operation.
The new 2021 Sustainability Report provides a comprehensive insight into the many sustainability initiatives being implemented across the value chain to achieve our goal of 50% absolute reduction in Scope 1 and 2 GHG emissions by 2030, as well as a review of the first full year of production at our award-winning biogas plant FØRKA.
Among key findings are a significant 38% decrease in carbon intensity per tonne of salmon produced in the Faroe Islands and an overall decrease in GHG emissions of 16% in Scotland. We also saw significant growth in the size of smolt (juveniles), which are expected to reach 500 g by 2023 in the Faroe Islands. This will mean a significant reduction in time at sea, resulting in reduced biological risk.
By adding another farming service vessel to our fleet, the M/S Bakkanes, we further strengthened our actions towards reducing biological risk as well as improved fish health and welfare.
We have updated our goal on gender equality, aiming at 25% female representation in management positions by 2025. This includes implementing programmes, partnerships and policies across the business to drive equality in our workforce.  
In 2021, we worked on setting a target on Scope 3 GHG emissions, and in 2022 we will submit the target to the Science Based Target initiative (SBTi). Being the largest private employer in the Faroe Islands and among the most important employers in rural Scotland, sourcing about 60% of products and services locally, we aim to promote and drive sustainable change in our supply chain.
We hope you enjoy reading our Healthy Living Sustainability Report 2021 and welcome any feedback you may have.
Press Contacts:
+298 23 50 01