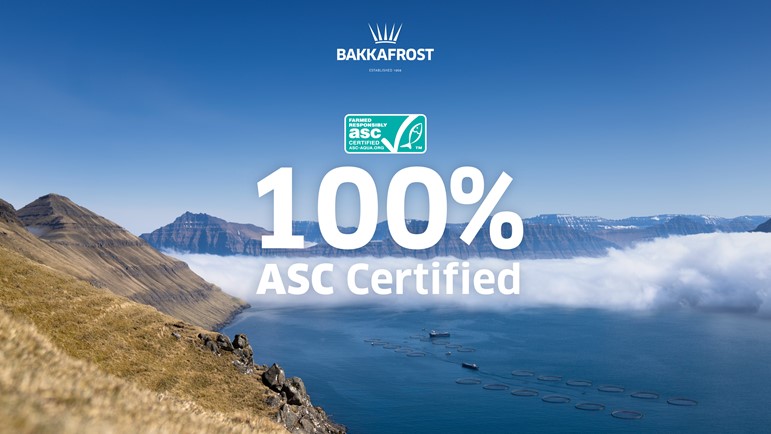 100% of Bakkafrost salmon in the Faroe Islands is now ASC certified
10.11.2020
Today, following a 7-year assessment period, all Bakkafrost farms in the Faroe Islands are now certified to the Aquaculture Stewardship Council (ASC) standard for responsible aquaculture.
"We are delighted that our last farm now has been awarded an ASC certificate. In 2013, we set ourselves the ambitious goal to become 100% ASC certified in 2020, and since then we have worked very hard to make it happen", said Regin Jacobsen, CEO. "This has required huge commitment from our employees, who have worked hard on changing the way we operate, and to establish the necessary competences in the company. We wish to supply the market with the best salmon in the world, raised in a responsible way with the greatest respect for our environment. I am therefore extremely pleased to be able to announce that we have now got the final piece of the puzzle in place regarding 100% ASC certification".   
To achieve the ASC certification, farms must operate at the highest industry standards to ensure the preservation of the natural environment, biodiversity and water resources and provide good working conditions for the employees.
"Achieving the 100% ASC certification is the result of a huge amount of effort and involvement from every team member. We have constantly challenged ourselves to improve our operations, minimise the environmental impact as well as focused on fish welfare, to provide a salmon of the highest standards", says Anna Johansen, Group Quality Manager at Bakkafrost.
In recent years, the demand for sustainably farmed salmon has increased significantly.
"Consumers are increasingly conscious of the impact of the products they purchase. Consumers demand a product that is sustainably produced. With this achievement, our market reach increases", Sales Manager Símun P. Jacobsen says.
Press Contacts:
+298 23 50 01